About Us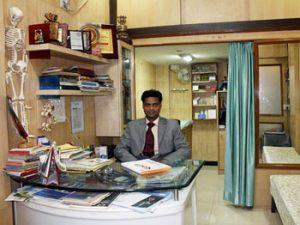 Dr. Chitaranjan Das is a medical doctor in allopathy, specialised in Anaesthesiology, practicing in various Multi-Speciality Hospitals and Nursing Homes in Mumbai and thane since 1999.
His Special interest is in Pain Management. He has received intense training in Interventional pain management in various renowned pain clinics in India and abroad. After finishing fellowship program conducted by Indian Society of study of pain (ISSP) he is practicing as a pain specialist in Ankoor Pain Care Clinic at Airoli, Navi Mumbai from 2006.
He has finished fellowship in pain medicine from West Bangal University of Health Science(WBUH) In 2017 and fellowship from Indian Academy of Pain Medicine(IAPM)in 2018
Dr. Das is a Member of Indian Society of Study of Pain (ISSP), Indian Society of Anaesthesia (ISA), Indian Medical Association (IMA) and trustee of Mumbai Anaesthesia Society (MAS).
Dr. Das was awarded as 'BHARATIYA CHIKITSAK RATNA' in 2006, honored by Education Minister of Maharashtra.He is also a national faculty for Pain medicine and delivers lecturers in national and international conferences regular basis.
Dr. Das is multifaceted doctor. He has completed Diploma in Yoga from Mumbai University, and Diploma in Yoga Therapy from Yoga VidyaNikatan. Studied correlation between Yoga, Meditation and Medicine. He also applies Yoga Asanas as treatment and rehabilitation for chronic pain patients. He has also taken certificate course in psychology and counseling which helps in understanding and empathizing chronic pain associated with depression. He is also a Marathoner and an active Rotarians and also practices Raj Yoga.